Meet our entrepreneurs: Thorben Croisé & Alexander Balzer, atfinity
The Zurich-based Regtech company atfinity is less than four years old and has already reinvented itself twice - with crazy ideas, passion and a sense of community. atfinity combines strong banking expertise with an engineering DNA. Their mission is to simplify compliance, reduce compliance risks and enable business. They help banks stay ahead of compliance with their platform regfinity that incorporates a central rule repository with automatically optimised compliance processes.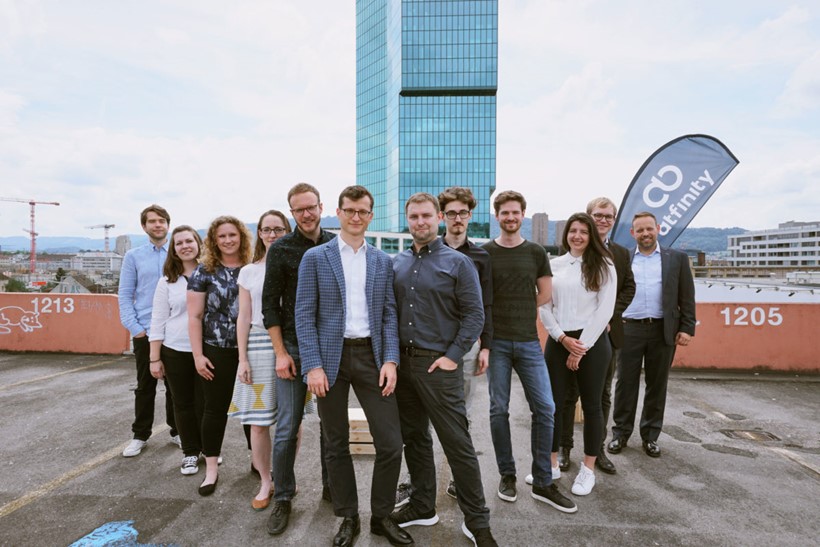 Those who earn their money with money have to follow rules - at least in general. This is even more important for banks. They have to check whether they follow laws, standards and self-imposed guidelines. This is called compliance. Most financial institutions employ entire departments to take care of it. A difficult job, because the processes in a company, the standards of the industry and the legal regulations are constantly changing. But the problem lies elsewhere. And this is where compliance creates more bureaucracy than reduces legal risks. Almost every large company is familiar with this: When a new law or regulation such as the EU-DSGVO is approaching, the implementation of the regulation is regarded as a project. "This is how isolated solutions are created," says Thorben Croisé. And such isolated solutions lead to inefficient processes, which in turn costs a lot of time and money.
Croisé's company Atfinity has a solution for this problem: software that tracks and automates all kinds of compliance processes. More specifically, it is a framework for non-programmers. A development environment that banks can use to describe their rules, create forms, and finally develop their own compliance tools. Croisé and his business partner Alexander Balzer launched this product only six months ago. But it all started in a different way. It was a coincidence that they both moved to Switzerland at the same time. Balzer came here from Berlin and did a traineeship at Credit Suisse. Croisé, originally from the Düsseldorf area, began his computer science studies at the Swiss Federal Institute of Technology. A common friend had brought them together. On Sundays they met, cooked together and hatched ideas. Croisé remembers with a smile: "We were fascinated by the combination of banking and information technology. And we were excited by what could be improved". But it took a while for the ideas to mature. Balzer first stayed at the bank and ascended there. When he had seen what was to be seen, he enrolled at the University of Maastricht in a graduate program called Entrepreneurship. You start a start-up on the very first day - with the motive that it will go wrong anyway, the students learn from it and do better in the next semester. Balzer's first attempt was to sell printed rain ponchos. Meanwhile, Croisé worked for Opera in Oslo. He really got into it and worked up to 70 hours a week. For a while he liked it quite well, as he says. But gradually he noticed: "There was this latent dissatisfaction that I carried around with me". The reason for this feeling lies, to a certain extent, in the nature of large companies: "You can steer projects and create your niches, but decisions are made by someone else. And in the end you have no idea why you are pursuing this or that strategy. But I really wanted to understand that. I wanted to understand strategic decisions.
Croisé came back to Zurich in 2015. He started at Beekeeper, a young software company that developed a messenger app for employee communications. "At a start-up, you get the chance to take a look behind the scenes" he says. But it didn't last long. After almost a year, he decided to set up something of his own. Balzer had reached a similar point: a diploma in his pocket, back in Switzerland, good prospects for a well-paid job, but no desire for routine work. The two met again and made a decision. Croisé remembers and smiles again: "The plan was simple: let's start a company and turn the whole financial industry upside down. "It was February 2016. The start of Atfinity was hopeful - and a bit bumpy. The first idea was to develop a secure messaging app. The idea was to allow asset managers to communicate with their clients, for example, by sending them investment tips. Croisé built a prototype and Balzer knocked off the market. "The interest was obvious, but nobody bought it," says Croisé, laughing.
Why didn't anyone take the bait? It was more complicated than they thought before. Not because of the technology, but because of the compliance requirements. Most asset managers didn't even have a real CRM, i.e. no client management software. There was simply no basis for introducing such a messaging app. So Balzer and Croisé did what any reasonable start-up would do: a pivot. They put down the idea with the chat channel and came up with something new. Their motto at the time: "If the basis is missing, then we'll make it ourselves". Sounds simple, but it's not. You have to be pretty crazy to build your own framework. But there was no other way. To make ends meet, Croisé and Balzer had started to do software jobs. They all had to do with compliance, but the requirements were completely different from customer to customer. "We wanted to be able to adapt the software so flexibly that we could do anything with it," says Croisé. More and more orders came in. Nine months after the company was founded, 7 people were already working for the company, all of them were computer scientists from the Federal Institute of Technology - with the exception of Balzer, who felt something through customer contact. He sensed the opportunity to develop a product that banks really needed: a solution for onboarding customers.
New product, new target group: Instead of asset managers, Atfinity now addressed medium-sized private banks with 100 to 1000 employees. With the onboarding tool, banks were able to offer their customers the option of opening an account completely digitally. The product was well received. Atfinity has grown rapidly and now employs 18 people. However, they stopped doing contractual software jobs. Because six months ago, Croisé and Balzer set a new course for the second time, because they realized that they were on the right track: Onboarding new customers is just one special case. Their framework can do much more - it can be the actual product.
The framework is called Regfinity. "Technically, it's a rule engine," says Croisé. Put more simply: a tool with which banks can digitize all possible processes and optimize workflows. What does that mean in concrete terms? "The key to compliance is a healthy customer relationship. And from a bank's point of view, customer relationships consist of contracts and forms," says Croisé. Regfinity is now used to set up such forms faster - and in such a way that there is no duplication of effort, processes run smoothly and automatically conform to rules. With their tool, a bank can digitize all processes - for example, customer onboarding, new employee onboarding, expense reports, layoffs, but also the granting of loans, mortgages and other financing transactions. The advantage of the tool is that anyone who deals with forms and instructions - typically lawyers - could use it. You can use it to create a form and then map the entire process that the form initiates in a mobile app or web application. "If you've done that with several forms, you get the magic moment," says Croisé. Every time he shows the tool to an executive, that's the moment the CEO looks puzzled and asks, "What kind of onboarding is that? Why do we ask so many questions? These are the moments when Croisé has to hold back his smile a bit.
It's Friday noon, shortly after twelve. At Atfinity it's Pizza Day. The team meets in an office corner reminiscent of a bistro: set tables, a buffet with breakfast cereal dispensers and a shiny silver coffee machine. A Brownbag lunch is served here every few weeks. Everyone grabs something to eat and a team member gives a lecture or shows a video - for example about a new software that is coming onto the market. "This promotes the exchange of knowledge, but is also good for team spirit," says Croisé. Eating and discussing together: That's what unites them, as well as the stand-ups: every day, employees stand together and explain to each others what they did the day before, what's going on today and where problems might arise. "Everyone should know everything," says Croisé. This should involve the employees, give them the feeling that they are more than just cog in the wheel. A concern that is of great importance to Croisé since his time at Opera. The image of the lonely programmer is wrong, as he says. Because: "Computer science is a social activity". If you want to develop, you have to be able to communicate with all kinds of people - with customers, designers, testing teams and of course with other developers. "That's why a diverse team, with different cultural backgrounds, with women and men, is so much better than a homogenous bunch that goes round in circles."
What does the future look like? First of all, Atfinity will continue to grow - but not just for its own sake. "It's difficult to make money and solve a social problem at the same time," says Croisé. But that's exactly what he wants to do with Atfinity: "If we make financial institutions more efficient and solve their compliance problems, we will also make the work of the regulatory authorities easier. And this should ultimately also pay off in economic terms - by making the next financial crisis less likely to happen through better compliance.
The article was published by J.Orizet from it-markt.ch. You can find the original article (German) at https://www.it-markt.ch/news/2019-08-28/ein-baukasten-fuer-banken-compliance